---
AN APPEAL FOR SUPPORT
We seek your support to meet the expenses relating to the formatting of articles and books, maintaining and running the journal through hosting, correrspondences, etc.Please write to the Editor in his e-mail address msthirumalai2@gmail.com to find out how you can support this journal.
Also please use the AMAZON link to buy your books. Even the smallest contribution will go a long way in supporting this journal. Thank you. Thirumalai, Editor.
---

---
---
BOOKS FOR YOU TO READ AND DOWNLOAD FREE!
---
REFERENCE MATERIAL
BACK ISSUES
---
E-mail your articles and book-length reports in Microsoft Word to msthirumalai2@gmail.com.
Contributors from South Asia may send their articles to
B. Mallikarjun,
Central Institute of Indian Languages,
Manasagangotri,
Mysore 570006, India or e-mail to mallikarjun@ciil.stpmy.soft.net. PLEASE READ THE GUIDELINES GIVEN IN HOME PAGE IMMEDIATELY AFTER THE LIST OF CONTENTS.
Your articles and booklength reports should be written following the MLA, LSA, or IJDL Stylesheet.
The Editorial Board has the right to accept, reject, or suggest modifications to the articles submitted for publication, and to make suitable stylistic adjustments. High quality, academic integrity, ethics and morals are expected from the authors and discussants.


Copyright © 2008
M. S. Thirumalai
---
The Relevance and Usefulness of European Literature
for Innovations in Indian Literature
A Review of Technique as Complementary to the Theme in
European Literature: A Perspective
---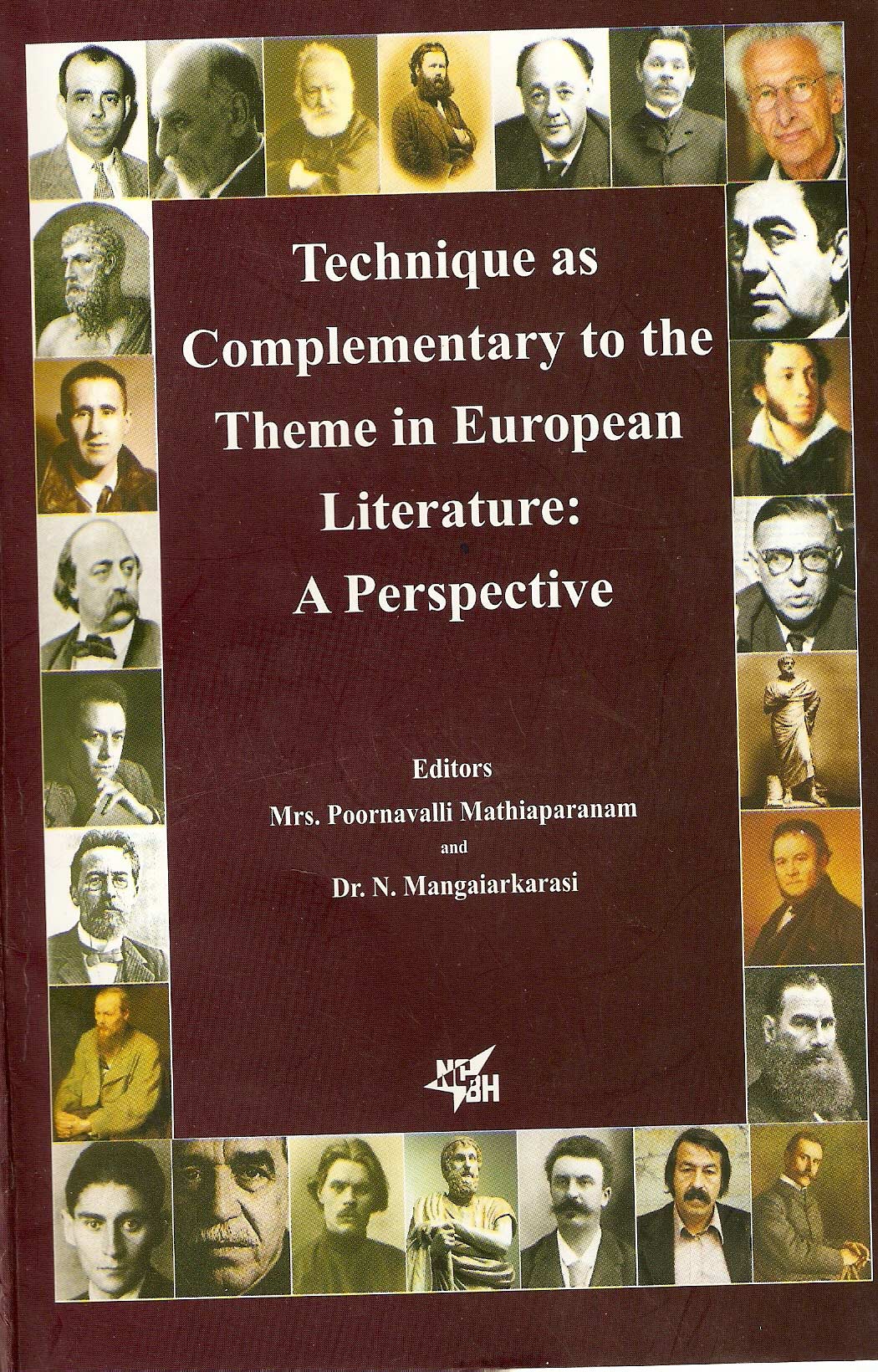 Technique as Complementary to the Theme in European Literature is a collection of articles edited and presented by two professors of English Literature, Poornavalli Mathiaparanam and N. Mangaiarkarasi (New Century Book House, Chennai 600 098, 2209. For copies, contact poornavallimathiaparanam@gmail.com).

Focus on Functional Language and Value-oriented Literary Education

There is so much hue and cry in favor of learning "functional English" (smattering?) as the primary goal of teaching and learning English in India in these days of globalization. In contrast to this demand, these professors from a college for women, PSGR Krishnammal College for Women, Coimbatore, have chosen to focus on values that continuously have influenced generations of Indian students through a study and understanding of European literature. That literature opens the door to the inner workings of any culture is readily accepted, but study of literature in the limited space of school and college curriculum is under attack - more so, the study of European and English literature.

Relevance of European Literature for Indian Students

Olive writes in her article on Leo Tolstoy that
Leo Tolstoy has a special place in the hearts of Indians who read literature with a purpose driven heart. Gandhi's interaction with Tolstoy makes Tolstoy very dear to Indian readers. Tolstoy's spirituality and Gandhi's approach to political problems faced by Indians and humanity around the world cemented them forever, as co-workers for peace, love and understanding (www.languageinindia.com/april2009/olivethambi.html).
Similar assessment can be easily made for many other European authors such as Henrik Ibsen, Maxim Gorky and others. Gorky's Mother is translated and re-translated several times in leading Indian languages such as Tamil, Bengali, Hindi and Malayalam! It has become a sort of a Bible for leftists in India. Brecht is another author who stirs the hearts and emotions of Indian readers. So, European literature connects itself with Indian readers not merely in terms of Gandhian approach to life, spirituality and Universalism but also in politics and social arenas. Hermann Hesse's Siddhartha, for example, deals with an Asian character with a European view of hero and anti-hero, etc.
New Vistas in Values and Literary Techniques
European literature including English literature introduces Indian students to a vibrant culture and civilization that has dominated the world for several centuries by now. Characterization, narrative techniques, choice of themes, uses of language, political and social agenda and many more ideas and instruments of European literature have influenced nascent modern Indian literature in all Indian languages. There is a lot to gain from and to give to European literature from an Indian perspective.
A Significant Step and Gift
In this sense, the work of the editors of this volume is well directed. The editors have taken a significant step in asking their co-workers in several colleges and universities to explore the various techniques adopted in selected pieces of European literature and to bring out the salient features of creating literature and enjoying the same for value-oriented education.
There are 28 articles included in this collection. Significantly all these articles are also written by women teachers of English literature. The list of articles and the authors who wrote these articles is given below:
Poornavalli Mathiaparanam
Leo Tolstoy's Anna Karenina as a Consummate Work of art
M. D. V. Kalyani
The Literary Craftsmanship of the Book of Job
Sheba Kulothungan
The Book of Ruth and the Art of Narration
Mekala Rajan
Architectonics Strengthens and Stabilizes the Themes in The Brothers Karamazov.
R. Padmavathi
Literary Motifs of Gustav Flaubert's Madame Bovary
U. Sumathy
Alexander Pushkin's Eugene Onegin: A Stylistic Tour de Force
N. Mangaiarkarasi
Techniques of Dante's Purgatorio A Multidimensional Perspective
Beulah Mary Rosalene
The Dialectical Theatre and the Didactic Drama: The Brechtian Technique
B. Mynavathi
The Literary Devices of Albert Camus as Reflected in The Outsider
Helen Unius Backiavathy
Semantic Analysis of Leo Tolstoy's Short Stories How Much Land Does a Man Need? and What Men Live By?
N. Kannamma
Victor Hugo's The Hunchback of Notre Dame and His Technique - A Brief Study
A. Nirmala
A Kaleidoscopic View of Kafka's Technique
Angeline, M.
A Critical Appraisal of the Dramatic Techniques of Euripides in The Medea
N. Thirumagal
Content-Construction Compatibility in Gunter Grass' Crabwalk
S. Gomathi
Dream Syndrome in Dostoevsky's Crime and Punishment
Pauline Das
Blend of Literary Styles and Themes in the Creation of Les Miserables
Sushil Mary Mathews
Night with No Dawn - A Study of the Technique and Theme of Sophocles' Antigone
R. Amudha
Conventions of Epic Theatre in Bertolt Brecht's The Good Person of Szechwan
Corneli Rosebella
A Study of Parallelism in the Book of Psalms
P. Dhanalakshmi
The Literary Artistry of Dostoevsky's The Idiot
R. Sumathi
To Be Is To Seem: Form as Technique in the Subversion of Reality
L. Rubie Christie
The Techniques and Stylistic Devices Employed in the Book of Proverbs
Priyadarshini
Homer's Odyssey as an Epic
S. Lavanya
A Critical Analysis of the Techniques Employed by Maxim Gorky in Mother
Nancy Biju
The Icon and the Windo: A Study of on Alexander Pushkin's Eugene Onegein
Margaret Jennifer
Mother Courage and Her Children as a Play of the Epic Theatre
J. Santhosh Priya
Archetypal Imagery in Hermann Hesse's Stufen
N. Bhuvana
Franz Kafka's The Metamorphosis An Exploration of Alienation and Human Loneliness through an Extraordinary Narrative Technique
Major Themes
Human predicament relating to survival and life, problems with family relations, good-evil relationships and man-woman relationship, spiritual questions, appropriate living based on code of conduct as in the Book of Proverbs, etc., seem to dominate the analysis in this volume.
Why the Books of the Bible?
Presented as they are, one naturally begins to wonder as to how books from the Bible were taken up for study as part of European literature. Hebrew literature is from Asia even as the Books relate to universal themes of suffering, righteous living, and justice to all. What the authors of these articles should have done is not only to review and critique Hebrew Books for the techniques and content presented in them but also to relate these Books to and show these as the basis of characterization in European literature. European literature does assume a background for its presentation and this largely happened to be Christian (Roman Catholic, Eastern Orthodox or Protestant/Evangelical), based on the Books of the Bible.
Changes in European Institutions
Rapid and significant changes have taken place in European family and society, including political institutions. These are reflected vividly in various works of literature and art. While retaining "Christian" values relating to individual and social interactions and at the political levels, tendency toward secularization and negation of religion as the dominant arbiter of human norms, have become significant elements of modern European literature. Most of the works under critical review in this collection of articles focus on the transitional stage of Europe. Developments during and since the World War II are not adequately represented in this collection. In addition, Scandinavian representation is also not adequate. Perhaps a separate volume of review and critique on such developments may be planned by the editors.
In addition, efforts at re-unification of Europe in some tangible ways have resulted in many changes and these are reflected in current literature. And these also will be a great addition to a new volume.
Let Us Go Beyond the Prescribed Books for Study in Colleges
In order to be in touch with the dynamics of European literature, we need to go beyond the prescribed textbooks for study in our colleges. A lot of innovations have been introduced in European literature in terms of content, narrative and techniques of presentation, etc. It is important for the teachers of European literature including English literature to be in touch with these developments. This will enable them to influence the new generations of students with newer European works.
---
PLEASE CLICK HERE TO READ THE ARTICLE IN PRINTER-FRIENDLY VERSION.
---
Mean Length of Utterance and Syntax in Konkani | A Study of English Loan Words in Selected Bahasa Melayu Newspaper Articles | Verb Reduplication in Tamil and Telugu | The Relevance and Usefulness of European Literature for Innovations in Indian Literature - A Review | Girish Karnad as a Modern Indian Dramatist - A Study | Code Switching and Code Mixing Among Oriya Trilingual Children - A Study | T. S. Eliot - A Universal Poet With Appeal to Indian Spirituality | Academics' Perceptions of Reading and Listening Needs for English for Specific Purposes - A Case from National University of Malaysia | Perspectives on Teaching English Literature to English Literature Major Students | Myths and Legends in the Plays of Girish Karnad | Acoustic Correlates of Stress in Konkani Language | Compassion - Leo Tolstoy's Philosophy as Seen in His War and Peace | Role of Space in the Narratives of Bharathi Vasanthan, A People's Writer from Puducherry | Teaching English in Multiracial and Multilingual Nations - A Review of Maya Khemlani David's Book, A Guide for the English Language Teacher | HOME PAGE of April 2009 Issue | HOME PAGE | CONTACT EDITOR
---
M. S. Thirumalai, Ph.D.
Adjunct Faculty
St. John's Matriculation School
Malayan Street
Tenkasi 627 811
Tamilnadu, India
msthirumalai2@gmail.com
Send your articles
as an attachment
to your e-mail to
msthirumalai2@gmail.com.
Please ensure that your name, academic degrees, institutional affiliation and institutional address, and your e-mail address are all given in the first page of your article. Also include a declaration that your article or work submitted for publication in LANGUAGE IN INDIA is an original work by you and that you have duly acknolwedged the work or works of others you either cited or used in writing your articles, etc. Remember that by maintaining academic integrity we not only do the right thing but also help the growth, development and recognition of Indian scholarship.