---
AN APPEAL FOR SUPPORT
We seek your support to meet the expenses relating to the formatting of articles and books, maintaining and running the journal through hosting, correrspondences, etc.Please write to the Editor in his e-mail address msthirumalai2@gmail.com to find out how you can support this journal.
Also please use the AMAZON link to buy your books. Even the smallest contribution will go a long way in supporting this journal. Thank you. Thirumalai, Editor.
---

---
---
BOOKS FOR YOU TO READ AND DOWNLOAD FREE!
---
REFERENCE MATERIAL
BACK ISSUES
---
E-mail your articles and book-length reports in Microsoft Word to msthirumalai2@gmail.com.
Contributors from South Asia may send their articles to
B. Mallikarjun,
Central Institute of Indian Languages,
Manasagangotri,
Mysore 570006, India or e-mail to mallikarjun@ciil.stpmy.soft.net.
PLEASE READ THE GUIDELINES GIVEN IN HOME PAGE IMMEDIATELY AFTER THE LIST OF CONTENTS.
Your articles and booklength reports should be written following the APA, MLA, LSA, or IJDL Stylesheet.
The Editorial Board has the right to accept, reject, or suggest modifications to the articles submitted for publication, and to make suitable stylistic adjustments. High quality, academic integrity, ethics and morals are expected from the authors and discussants.


Copyright © 2009
M. S. Thirumalai
---
Sense of Place and Sense of Dislocation in Amitav Ghosh's
The Glass Palace
K. Mohana Priya, M.A., M.Phil.
---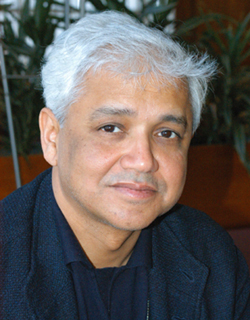 Seek and Gain Wealth Anywhere
While traditional Hindu practices prescribed some purification rituals for those who crossed the seas, millions of Indians presently seek to travel abroad, settle down and earn their livelihood. There is an interesting proverb in Tamil which emphatically asks people that even by crossing seas you should seek and gain wealth. Then there is also another Tamil proverb which declares that the educated always get honor and privileges wherever (whichever country) they go and live in. One notices Indian settlements in several parts of the world, especially in Southeast and West Asia even before migrations began during the colonial period under the "patronage" of the colonial rulers.
Poverty and small time business interests encouraged large scale migrations to rubber plantations, sugar plantations, etc. during the colonial period. Communities of Indians formed during this period were less than rich and faced great hardship. Yet these communities always longed to be back in their homeland, and in remembrance of their homeland and its traditional practices established their own temples, rituals, and places of pilgrimages.
Yearning for the Homeland
However, yearning to return to India primarily for pilgrimage to religious places of worship has been always noticed. Modern Indian communities that reached Europe, Persian Gulf, America and many other nations were and are generally an educated lot, with easily marketable skills. Exchange of spouses within their own castes and religions is made possible because of easy access to rapid transportation and adequate wealth they acquired/acquire. Even then gaps between younger and older generations kindle an yearning to return or visit their homeland.
Amitav Ghosh occupies an important place in the landscape of contemporary English-language authors from the Indian subcontinent. He was born and raised in India, but presently he is settled in America. He writes about his homeland, India, and the countries surrounding it. He is focused on writing about the Indian Diaspora.
Nature of Diaspora
The word Diaspora is taken from the Greek, meaning 'to disperse'. The word refers to "movement, migration, or scattering of a people away from an established or ancestral homeland" (http://www.merriam-webster.com/dictionary/diaspora). Diaspora is a combination of two words, one of the words meaning "dispersion" and another "to sow" Thus Diaspora means not simply migration but a migration, forced or voluntary, that leads to longtime settlement and consequent civilization. Origin of the concept begins with the forced dispersion of Jews around the world. Globalization in this century brings in voluntary building of communities, Diaspora, around the world.
Diasporas live in one country as community but look across time and space to another. The migrant diasporas and their descendents experience displacement, fragmentation, marginalization and discontinuity in the cultural 'discourse' of the subject countries.
Brah (1996) describes the status of diasporas in the culture very appropriately by saying "…. all diasporas are differentiated, heterogeneous, contested spaces, even as they are implicated in the construction of a common We." This living 'in-between' condition is very painful and marginalizing for the diasporas. There is a yearning for 'home', to go back to the lost origin, and imaginary homelands are created from the fragmentary and partial memories of their homelands. They also face cultural dilemma when their cultural practices are mocked at and there is a threat to their cultural identity. They stand bewildered and confused and show resistance also to ruling power in various forms. In the following generations these confusions, problems and yearnings become less intense as they get influenced by the culture of that country and also adapt themselves to it.
Amitav Ghosh's Mirror Reflecting Diaspora
Amitav Ghosh addresses the sensitive yet crucial dilemmas in the lives of immigrants. The subject matter deals mainly with immigrants' ability to adapt to the differences of living in Burma. Miscarriages and the disconnection between first and second generation immigrants are also presented in his works.
---
This is only the beginning part of the article. PLEASE CLICK HERE TO READ THE ARTICLE IN PRINTER-FRIENDLY VERSION.
---
A Study of Structural Duplication in Tamil and Telugu - A Doctoral Dissertation | Computational Linguistics as a Curriculum for Engineering Students in India | A Discourse Analysis of R. K. Narayan's The Man-eater of Malgudi | Sense of Place and Sense of Dislocation in Amitav Ghosh's The Glass Palace | Teaching English Language Skills for Law - A Malaysian Case Study | Bi/Multilingualism and Issues in Management of Communication Disorders With Emphasis on Indian Perspectives | Role of English as a Tool for Communication in Tamil Society | The Frequency of the Passive in Indian English | Light Verbs in Gojri | The Core Functions of the English Modals - Speech Act Approach | Phonological Mean Length of Utterance (Pmlu) in Kannada-Speaking Children | Tolkaappiyam - Kaviraajamaarga - A Brief Note of Comparison | A Review of A Quick Guide to Postgraduate Supervision | Procedure to Develop Competency Based Self-Learning Materials | HOME PAGE of August 2009 Issue | HOME PAGE | CONTACT EDITOR
---
K. Mohana Priya, M.A., M.Phil.
Nandha Engineering College
Department of Science & Humanities (English)
Vaikkalmedu, Perundurai Road
Erode-638052
Tamil Nadu, India
priyaliterature@gmail.com
Send your articles
as an attachment
to your e-mail to
msthirumalai2@gmail.com.
Please ensure that your name, academic degrees, institutional affiliation and institutional address, and your e-mail address are all given in the first page of your article. Also include a declaration that your article or work submitted for publication in LANGUAGE IN INDIA is an original work by you and that you have duly acknolwedged the work or works of others you either cited or used in writing your articles, etc. Remember that by maintaining academic integrity we not only do the right thing but also help the growth, development and recognition of Indian scholarship.