---
AN APPEAL FOR SUPPORT
We seek your support to meet expenses relating to formatting of articles and books, maintaining and running the journal through hosting, correrspondences, etc.Please write to the Editor in his e-mail address mthirumalai@comcast.net to find out how you can support this journal.
Also please use the AMAZON link to buy your books. Even the smallest contribution will go a long way in supporting this journal. Thank you. Thirumalai, Editor.
---

---
---
BOOKS FOR YOU TO READ AND DOWNLOAD FREE!
A STUDY OF THE SKILLS OF READING COMPREHENSION IN ENGLISH DEVELOPED BY STUDENTS OF STANDARD IX IN THE SCHOOLS IN TUTICORIN DISTRICT, TAMILNADU ...
A. Joycilin Shermila, Ph.D.
A Socio-Pragmatic Comparative Study of Ostensible Invitations in English and Farsi ...
Mohammad Ali Salmani-Nodoushan, Ph.D.
ADVANCED WRITING - A COURSE TEXTBOOK ...
Parviz Birjandi, Ph.D.
Seyyed Mohammad Alavi, Ph.D.
Mohammad Ali Salmani-Nodoushan, Ph.D.
TEXT FAMILIARITY, READING TASKS, AND ESP TEST PERFORMANCE: A STUDY ON IRANIAN LEP AND NON-LEP UNIVERSITY STUDENTS - A DOCTORAL DISSERTATION ...
Mohammad Ali Salmani-Nodoushan, Ph.D.
A STUDY ON THE LEARNING PROCESS OF ENGLISH
BY HIGHER SECONDARY STUDENTS
WITH SPECIAL REFERENCE TO DHARMAPURI DISTRICT IN TAMILNADU ...
K. Chidambaram, Ph.D.
SPEAKING STRATEGIES TO OVERCOME COMMUNICATION DIFFICULTIES IN THE TARGET LANGUAGE SITUATION - BANGLADESHIS IN NEW ZEALAND ...
Harunur Rashid Khan
THE PROBLEMS IN LEARNING MODAL AUXILIARY VERBS IN ENGLISH AT HIGH SCHOOL LEVEL ...
Chandra Bose, Ph.D. Candidate
THE ROLE OF VISION IN LANGUAGE LEARNING
- in Children with Moderate to Severe Disabilities ...
Martha Low, Ph.D.
SANSKRIT TO ENGLISH TRANSLATOR ...
S. Aparna, M.Sc.
A LINGUISTIC STUDY OF ENGLISH LANGUAGE CURRICULUM AT THE SECONDARY LEVEL IN BANGLADESH - A COMMUNICATIVE APPROACH TO CURRICULUM DEVELOPMENT by
Kamrul Hasan, Ph.D.
COMMUNICATION VIA EYE AND FACE in Indian Contexts by
M. S. Thirumalai, Ph.D.
COMMUNICATION
VIA GESTURE: A STUDY OF INDIAN CONTEXTS by M. S. Thirumalai, Ph.D.
Language, Thought
and Disorder - Some Classic Positions by
M. S. Thirumalai, Ph.D.
English in India:
Loyalty and Attitudes
by Annika Hohenthal
Language In Science
by M. S. Thirumalai, Ph.D.
Vocabulary Education
by B. Mallikarjun, Ph.D.
A CONTRASTIVE ANALYSIS OF HINDI
AND MALAYALAM
by V. Geethakumary, Ph.D.
LANGUAGE OF ADVERTISEMENTS
IN TAMIL
by Sandhya Nayak, Ph.D.
An Introduction to TESOL:
Methods of Teaching English
to Speakers of Other Languages
by M. S. Thirumalai, Ph.D.
Transformation of
Natural Language
into Indexing Language:
Kannada - A Case Study
by B. A. Sharada, Ph.D.
How to Learn
Another Language?
by M.S.Thirumalai, Ph.D.
Verbal Communication
with CP Children
by Shyamala Chengappa, Ph.D.
and M.S.Thirumalai, Ph.D.
Bringing Order
to Linguistic Diversity
- Language Planning in
the British Raj by
Ranjit Singh Rangila,
M. S. Thirumalai,
and B. Mallikarjun
---
REFERENCE MATERIAL
BACK ISSUES
---
E-mail your articles and book-length reports in Microsoft Word to mthirumalai@comcast.net.
Contributors from South Asia may send their articles to
B. Mallikarjun,
Central Institute of Indian Languages,
Manasagangotri,
Mysore 570006, India or e-mail to mallikarjun@ciil.stpmy.soft.net. PLEASE READ THE GUIDELINES GIVEN IN HOME PAGE IMMEDIATELY AFTER THE LIST OF CONTENTS.
Your articles and booklength reports should be written following the MLA, LSA, or IJDL Stylesheet.
The Editorial Board has the right to accept, reject, or suggest modifications to the articles submitted for publication, and to make suitable stylistic adjustments. High quality, academic integrity, ethics and morals are expected from the authors and discussants.


Copyright © 2007
M. S. Thirumalai
---
GANDHI'S IDEOLOGY ON THE EMPOWERMENT OF WOMEN

M. Jayamala, Ph.D.
J. Sheela, Ph.D.
---
WOMEN AT A DISADVANTAGE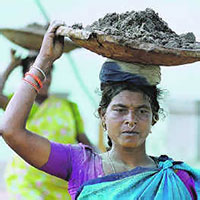 Women's Burden
"Woman, I hold, is the personification of self sacrifice, but unfortunately today she does not realize what tremendous advantage she has over man" is the condition of women observed by Gandhi. According to Gandhi, both men and women are of equal rank, but they are not identical. They are a peerless pair, being supplementary to one another, each helping the other so that without the one the existence of the other cannot be conceived.
Throughout the history of India, women in India have been placed at disadvantageous position vis-à-vis Indian men. Despite changes in political governance and acceptance of democracy as the basis of Indian polity, position of women in India has been at a constant decline in the status and living conditions. Women have been subjected to various societal gender biases in terms of stereotyped notions and prejudices about their capacity, aspiration and so on.
INDIAN LANGUAGE AND ROLE OF WOMEN
Dr. Sankaranarayanan, a senior scholar in Indian linguistics, presents this argument:
Indian languages, both classical and current, exhibit certain markers that reveal the status accorded to women in the Indian society. Different people may interpret some of these markers differently, but the vocabulary nuances certainly show the status we accord to our women in our society. There is no Indian language that could be treated as an exception in this regard. Sometimes the enthusiasts and the traditionalists may claim that the status of women in the by-gone ages was equal to that of men, or that the women had great educational opportunities and that they excelled in many fields. While it is true that there were several women poets, statesmen and intellectuals in the past, the status accorded to women as a group was indeed inferior to that of men. We all desire to prove that we had a golden age in the past during which every thing was all right and milk and honey flowed. But the present reality could not come about in a day nor was it a degradation of the past. (http://www.languageinindia.com/sep2001/genderandlang.html)
Independent India has achieved many successes in science and technology, but there still exits many social evils like dowry harassments, molestation and discrimination of women in work places, etc.
In this article we would like to review Gandhian ideology on women's emancipation, and present a critique of this ideology in relation to the current status of women.
The concept of self is the most important factor affecting the behaviour of women. Selfrealization of the potential of women was severely restricted in the pre-independence period due to various socio-cultural conditions and conditioning. There was an urgent need to make special efforts to enable women to become self-reliant, by positive and active interventions in the direction of confidence building in the cognitive, psychological, economic and political areas.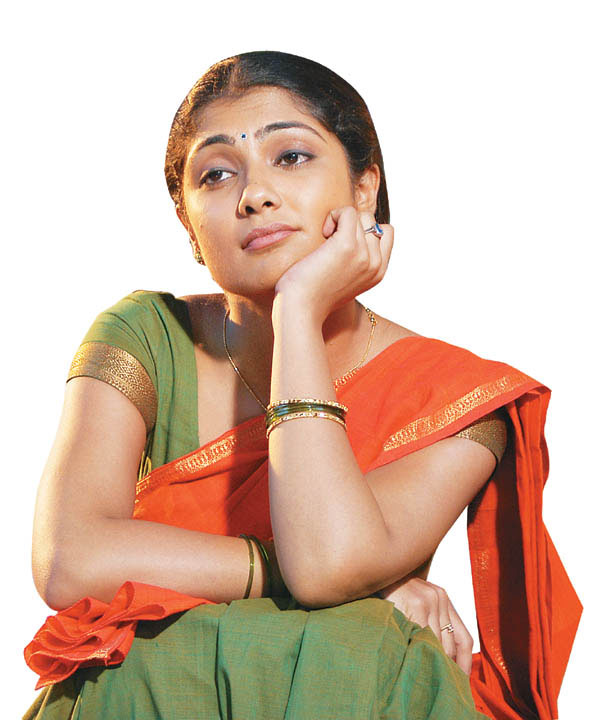 Girls with great expectations
Cognitive empowerment involves an understanding of the subordinate conditions and their causes. It calls for knowledge and an understanding of the self, as well as the need to make choices, which may go against cultural and social expectations.
Psychological empowerment is concerned with women's feelings and the belief that they can change their situation themselves. As women are normally socialized to be submissive, to serve and let the men in their lives make all the decisions affecting them.
Economic empowerment involves the ability of women to engage in income generating activities, which will give them an independent income.
• Political empowerment entails the ability to analyse situation politically and also, mobilization for social change (Stromquist, 1993).
DOMESTIC SLAVERY OF WOMEN
According to Gandhi, "domestic slavery of women is a sample of our barbarism." He was of the view that domestic work ought not to take the whole of a women's time and they should be free from this drudgery of cooking. He advocated non-cooked food like fruits and vegetables as a part of the daily diet in the ashram too. Moreover, he took keen interest in his women colleagues and associates and devoted considerable time, energy and effort to understand women's strengths, hopes and aspiration. He assigned them with specific tasks, with challenges that women themselves were apprehensive of fulfilling but the accomplishment of which infused them with a refreshing self-perception and generated self-confidence in them.
FAULTY EDUCATION OF WOMEN
Gandhi wrote that the education of women was as faulty as that of men. No thought had been given to the relations of men and women or to the place of women in Indian society. He said that woman is the companion of man, gifted with equal mental capacities. She has the right to participate to the very minutest detail in the activities of man and she has an equal right of freedom and liberty with him. She is entitled to a supreme place in her own sphere of activity as a man is in his. This ought to be a natural condition of things and not as a result only of learning to read and write. Just by the sheer force of a vicious custom, even the most ignorant and worthless men have been enjoying his superiority over women, which they do not deserve and ought not leave.
---
This is only a brief part of the article. PLEASE CLICK HERE TO READ THE ENTIRE ARTICLE IN A PRINTER-FRIENDLY VERSION.
---
Bilingual Advertising in a Multilingual Country | Need for an Active Dictionary for the Advanced Learners of English in Pakistan | Voices of the Marginalised - The Voice of God in the Lives of the People
A Study of Leo Tolstoy's Language | Gandhi's Ideology on the Empowerment of Women | N. Palanivelu: A Pioneer among the Tamil Writers of Malaysia and Singapore | Strategies for Communication Skills Development for the Students of Engineering Colleges in India | LANGUAGE NEWS THIS MONTH -
Ethnic Killing in India, Etc. | On Refining Your Etiquette -CHAPTER 8 -- WORDS, PHRASES AND PRONUNCIATION - From the Book of Etiquette by Emily Post, 1922 | HOME PAGE OF APRIL 2007 ISSUE | HOME PAGE | CONTACT EDITOR
---
M. Jayamala, Ph.D.
DRJMALA@YAHOO.CO.IN
J. Sheela, Ph.D.
SHEELAWILSON_11@YAHOO.CO.IN
CENTRE FOR WOMEN'S STUDIES
PSGR.KRISHNAMMAL COLLEGE FOR WOMEN
PEELAMEDU, COIMBATORE-641 004
Tamilnadu
India

Send your articles
as an attachment
to your e-mail to
mthirumalai@comcast.net.
Please ensure that your name, academic degrees, institutional affiliation and institutional address, and your e-mail address are all given in the first page of your article. Also include a declaration that your article or work submitted for publication in LANGUAGE IN INDIA is an original work by you and that you have duly acknolwedged the work or works of others you either cited or used in writing your articles, etc. Remember that by maintaining academic integrity we not only do the right thing but also help the growth, development and recognition of Indian scholarship.