---
AN APPEAL FOR SUPPORT
We seek your support to meet expenses relating to formatting of articles and books, maintaining and running the journal through hosting, correrspondences, etc.Please write to the Editor in his e-mail address mthirumalai@comcast.net to find out how you can support this journal.
Also please use the AMAZON link to buy your books. Even the smallest contribution will go a long way in supporting this journal. Thank you. Thirumalai, Editor.
---

---
---
BOOKS FOR YOU TO READ AND DOWNLOAD FREE!
A STUDY OF THE SKILLS OF READING COMPREHENSION IN ENGLISH DEVELOPED BY STUDENTS OF STANDARD IX IN THE SCHOOLS IN TUTICORIN DISTRICT, TAMILNADU ...
A. Joycilin Shermila, Ph.D.
A Socio-Pragmatic Comparative Study of Ostensible Invitations in English and Farsi ...
Mohammad Ali Salmani-Nodoushan, Ph.D.
ADVANCED WRITING - A COURSE TEXTBOOK ...
Parviz Birjandi, Ph.D.
Seyyed Mohammad Alavi, Ph.D.
Mohammad Ali Salmani-Nodoushan, Ph.D.
TEXT FAMILIARITY, READING TASKS, AND ESP TEST PERFORMANCE: A STUDY ON IRANIAN LEP AND NON-LEP UNIVERSITY STUDENTS - A DOCTORAL DISSERTATION ...
Mohammad Ali Salmani-Nodoushan, Ph.D.
A STUDY ON THE LEARNING PROCESS OF ENGLISH
BY HIGHER SECONDARY STUDENTS
WITH SPECIAL REFERENCE TO DHARMAPURI DISTRICT IN TAMILNADU ...
K. Chidambaram, Ph.D.
SPEAKING STRATEGIES TO OVERCOME COMMUNICATION DIFFICULTIES IN THE TARGET LANGUAGE SITUATION - BANGLADESHIS IN NEW ZEALAND ...
Harunur Rashid Khan
THE PROBLEMS IN LEARNING MODAL AUXILIARY VERBS IN ENGLISH AT HIGH SCHOOL LEVEL ...
Chandra Bose, Ph.D. Candidate
THE ROLE OF VISION IN LANGUAGE LEARNING
- in Children with Moderate to Severe Disabilities ...
Martha Low, Ph.D.
SANSKRIT TO ENGLISH TRANSLATOR ...
S. Aparna, M.Sc.
A LINGUISTIC STUDY OF ENGLISH LANGUAGE CURRICULUM AT THE SECONDARY LEVEL IN BANGLADESH - A COMMUNICATIVE APPROACH TO CURRICULUM DEVELOPMENT by
Kamrul Hasan, Ph.D.
COMMUNICATION VIA EYE AND FACE in Indian Contexts by
M. S. Thirumalai, Ph.D.
COMMUNICATION
VIA GESTURE: A STUDY OF INDIAN CONTEXTS by M. S. Thirumalai, Ph.D.
Language, Thought
and Disorder - Some Classic Positions by
M. S. Thirumalai, Ph.D.
English in India:
Loyalty and Attitudes
by Annika Hohenthal
Language In Science
by M. S. Thirumalai, Ph.D.
Vocabulary Education
by B. Mallikarjun, Ph.D.
A CONTRASTIVE ANALYSIS OF HINDI
AND MALAYALAM
by V. Geethakumary, Ph.D.
LANGUAGE OF ADVERTISEMENTS
IN TAMIL
by Sandhya Nayak, Ph.D.
An Introduction to TESOL:
Methods of Teaching English
to Speakers of Other Languages
by M. S. Thirumalai, Ph.D.
Transformation of
Natural Language
into Indexing Language:
Kannada - A Case Study
by B. A. Sharada, Ph.D.
How to Learn
Another Language?
by M.S.Thirumalai, Ph.D.
Verbal Communication
with CP Children
by Shyamala Chengappa, Ph.D.
and M.S.Thirumalai, Ph.D.
Bringing Order
to Linguistic Diversity
- Language Planning in
the British Raj by
Ranjit Singh Rangila,
M. S. Thirumalai,
and B. Mallikarjun
---
REFERENCE MATERIAL
BACK ISSUES
---
E-mail your articles and book-length reports in Microsoft Word to mthirumalai@comcast.net.
Contributors from South Asia may send their articles to
B. Mallikarjun,
Central Institute of Indian Languages,
Manasagangotri,
Mysore 570006, India or e-mail to mallikarjun@ciil.stpmy.soft.net. PLEASE READ THE GUIDELINES GIVEN IN HOME PAGE IMMEDIATELY AFTER THE LIST OF CONTENTS.
Your articles and booklength reports should be written following the MLA, LSA, or IJDL Stylesheet.
The Editorial Board has the right to accept, reject, or suggest modifications to the articles submitted for publication, and to make suitable stylistic adjustments. High quality, academic integrity, ethics and morals are expected from the authors and discussants.


Copyright © 2007
M. S. Thirumalai
---
STRATEGIES FOR COMMUNICATION SKILLS DEVELOPMENT FOR THE STUDENTS OF ENGINEERING COLLEGES IN INDIA

S. Parvin Banu, M.A., M. Phil.
---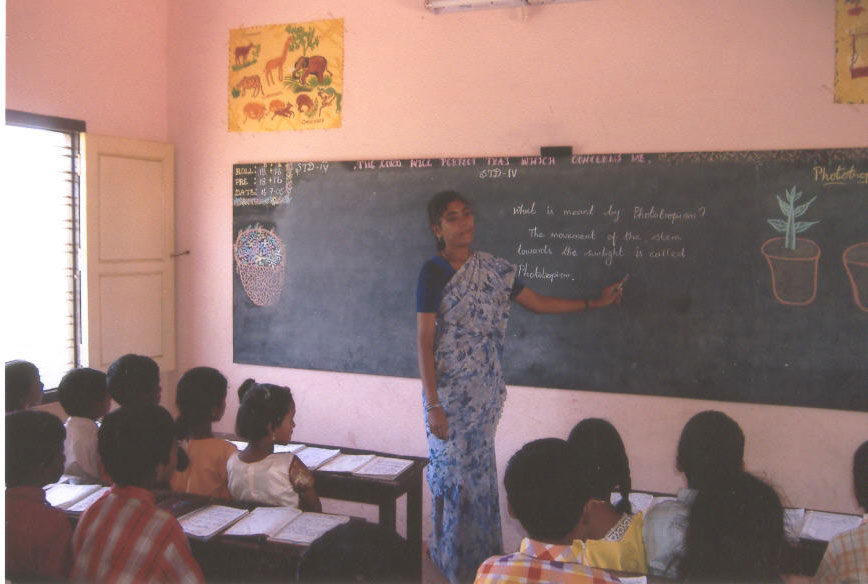 Classroom in an English Medium School
INADEQUATE ENGLISH SKILLS AMONG RURAL STUDENTS
It is commonly noticed and commented upon that many engineering graduates in Tamilnadu, while facing campus interviews, fail to converse in English freely with the recruiters, and thus they fail to get the most coveted jobs. Technically, these graduates have a sound knowledge of their majors, but when the conversation part comes, they fail to perform well.
Communication may take place through interviews, presentations, and written documents. But the basis for the communication is often the general mode of conversation. Among all the other modes, conversation is the most important means of communication. Conversation is the way to influence others and to be influenced by others. Conversation helps us to develop our relationship with others. Conversations are not simply exchange of words. They include non-verbal communication, which is, often, performed and perceived unconsciously.
INCREASE IN YEARS OF ENGLISH EDUCATION NO HELP!
In spite of learning English for more than 12 years as a subject, engineering students in the rural parts of Tamilnadu find it difficult to communicate their views in English. Their English idiom is still heavily influenced by their mother tongue. They have a very thick accent. Their sentence construction is faulty, and their speech is full of pronunciation errors, which make it often difficult to comprehend what they actually try to communicate. Leading linguistics scholars in Tamilnadu have pointed out that the main reason for this condition is that children are taught English as a subject and not as a language. Children also learn English as a subject and not as a living language that is used for practical purposes and for professional communication. They learn the rules of grammar, but they are not skilled in applying such rules in active language use. Rote learning of grammar rules, passive knowledge of the vocabulary, insufficient vocabulary, inability to pronounce the words clearly, and inappropriate use of vocabulary mark their production of English utterances. They feel shy to speak in English, as the environment does not seem to encourage communication in English. While at the same time their Tamil is full of phrases from English.
ACQUISITION OF BILINGUAL SKILLS
In order for any child to become bilingual, it is important that the child receive meaningful exposure to two languages. For many children, this happens naturally when there are two languages necessary for the child to negotiate in his or her environment. For example, children from Telugu, Kannada, Malayalam, or Urdu speaking families learn to use Tamil with ease when exposed to the Tamil environment outside their homes. However, for the acquisition of bilingual skills in English for most children, a determined strategy must be implemented to provide better access to the language in the school environment. This is not done consciously in the schools in Tamilnadu and this results in faulty learning and use of English at this stage, which is carried over to the college level.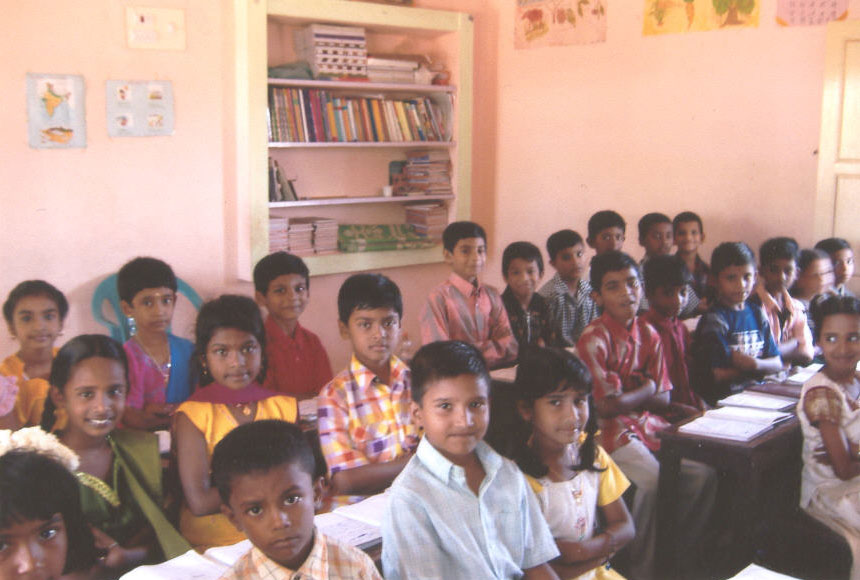 Classroom in an English Medium School
To overcome this situation, we need to introduce effective communication opportunities to all engineering students and insist on credible and demonstrable success in these opportunities.
WHAT IS MEANT BY EFFECTIVE COMMUNICATION?
Effective communication is not talking mindlessly nor is it just passing the information to each other. The communicator has to enable the listener understand her intent and purpose of the communicated message more or less in the same way she has intended it to be understood. It involves both the sender of the message and the receiver. The message may often be misinterpreted if they are not communicated effectively. In fact, a message is successful only when both the sender and the receiver perceive it in the same way.
HOW TO MAKE OUR COMMUNICATION EFFECTIVE?
Firstly, we should have a good understanding of what we want to convey and then make others understand it in the same way we have understood it. So, let us first understand the matter and then clarify the objective. Objective is nothing but what we want to achieve. The matter to be communicated has to be understood first and then arranged logically. Then to bring the ideas alive in the listeners mind, we have to use the words to create pictures and feelings that will stimulate their senses as well as their brain. Words may often be forgotten, but not the images. So if we want our ideas to stick, we must stamp them in the listener's mind in some non-verbal form.
Fluency, rather than correct and grammatical speech, is our goal in the beginning stage.
The first step to become a good communicator is to be a good listener. Once this listening skill is initiated within the student, the student may start to express her/his thoughts, ideas and feeling thereby responding to the communication of others, which enables the students to participate in social communication successfully. Therefore both listening and speaking (Oral language) provide foundation for the development of other language skills like reading and writing.
---
This is only a brief part of the article. PLEASE CLICK HERE TO READ THE ENTIRE ARTICLE IN A PRINTER-FRIENDLY VERSION.
---
Bilingual Advertising in a Multilingual Country | Need for an Active Dictionary for the Advanced Learners of English in Pakistan | Voices of the Marginalised - The Voice of God in the Lives of the People
A Study of Leo Tolstoy's Language | Gandhi's Ideology on the Empowerment of Women | N. Palanivelu: A Pioneer among the Tamil Writers of Malaysia and Singapore | Strategies for Communication Skills Development for the Students of Engineering Colleges in India | LANGUAGE NEWS THIS MONTH -
Ethnic Killing in India, Etc. | On Refining Your Etiquette -CHAPTER 8 -- WORDS, PHRASES AND PRONUNCIATION - From the Book of Etiquette by Emily Post, 1922 | HOME PAGE OF APRIL 2007 ISSUE | HOME PAGE | CONTACT EDITOR
---
S. Parvin Banu, M.A., M. Phil.
Department of English
Nandha Engineering College
Pitchandampalayam Post
Perundurai Erode-52, Tamilnadu
India
parvinashwath@yahoo.com
Send your articles
as an attachment
to your e-mail to
mthirumalai@comcast.net.
Please ensure that your name, academic degrees, institutional affiliation and institutional address, and your e-mail address are all given in the first page of your article. Also include a declaration that your article or work submitted for publication in LANGUAGE IN INDIA is an original work by you and that you have duly acknolwedged the work or works of others you either cited or used in writing your articles, etc. Remember that by maintaining academic integrity we not only do the right thing but also help the growth, development and recognition of Indian scholarship.