---
AN APPEAL FOR SUPPORT
We seek your support to meet the expenses relating to the formatting of articles and books, maintaining and running the journal through hosting, correrspondences, etc.Please write to the Editor in his e-mail address msthirumalai2@gmail.com to find out how you can support this journal.
Also please use the AMAZON link to buy your books. Even the smallest contribution will go a long way in supporting this journal. Thank you. Thirumalai, Editor.
---

---
---
BOOKS FOR YOU TO READ AND DOWNLOAD FREE!
---
REFERENCE MATERIAL
BACK ISSUES
---
E-mail your articles and book-length reports in Microsoft Word to msthirumalai2@gmail.com.
Contributors from South Asia may send their articles to
B. Mallikarjun,
Central Institute of Indian Languages,
Manasagangotri,
Mysore 570006, India or e-mail to mallikarjun@ciil.stpmy.soft.net. PLEASE READ THE GUIDELINES GIVEN IN HOME PAGE IMMEDIATELY AFTER THE LIST OF CONTENTS.
Your articles and booklength reports should be written following the APA, MLA, LSA, or IJDL Stylesheet.
The Editorial Board has the right to accept, reject, or suggest modifications to the articles submitted for publication, and to make suitable stylistic adjustments. High quality, academic integrity, ethics and morals are expected from the authors and discussants.


Copyright © 2008
M. S. Thirumalai
---
The Impact and Relevance of Hedda Gabler in Modern Days
Shanthi Nehemiah, M.A., M.Phil.
---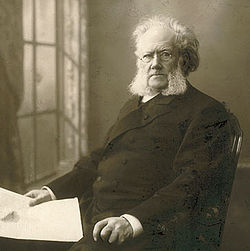 From Wikipedia http://en.wikipedia.org/wiki/Henrik_Ibsen
Literature Mirrors Life
In many ways, literature mirrors life. It reflects, criticizes, and/or enhances life. Some literary works transcend time and become classics, relevant to all time to come. Henrik Ibsen's play Hedda Gabler seems to reflect the life then and now. The play was first published in 1890. Hedda Gabler is a character that people can relate to in the new millennium. She is one of those characters whom we may see on television or right next door in our neighborhood. I think that Ibsen wrote this play with a futuristic vision.
The following news in The Times of India, for example, partly complement the theme and the course of the play. These news items relate to desperate women in desperate circumstances who enter into acts of murder, through instigating and misleading others. Hedda does this to secure her future and her luxurious living.
These reports given below prove that Hedda is not an imaginary character and the movements of the play are not unusual, though it was originally published in 1890.
News from India
News report 1 is published with the heading, A Priest's Daughter, Now a Woman on the Run! According to this report, Partharasarathy is an itinerant Hindu priest, who officiates as priest performing marriage ceremonies. His daughter, Sangeetha, was the youngest of his children. Sangeetha was arrested for double murder case.
Sangeetha got married four times, the latest being to Dinesh, who is also a accused in the murder case. Her first husband, Kannan, a priest residing in Sholinghur, and their marriage lasted for seven years, from 1994 to 2001. She then married Jaganathan, a casual labourer in the railways. The marriage lasted from 2002 to 2005, before she got married to Uma Shankar, who runs a private manpower agency in 2008. They got separated within a few months. Meanwhile, she attempted suicide and was admitted to a private hospital in Kancheepuram, where she met Dinesh and got married a month ago" (report by A. Selvaraj in the Times of India, dated January 6, 2009).
News report 2 is published with the heading, Cops hunt for woman mastermind! This was published in the same newspaper under the signature of the same journalist, A. Selvaraj, on January 5, 2009.
Dinesh said Sangeetha was married to Kannan of Sholinghur, with whom she lived for eight years. She then married Jaganathan of Arakkonam and stayed with him for three years. Later on, she married Uma Shankar and lived with him for six months. Two months ago, Sangeetha met Dinesh at a private hospital in Kancheepuram, where she was admitted for injuries following a suicide attempt. Sangeetha and Dinesh got married a month ago.
Dinesh said Sangeetha had planned the murders. She told Dinesh that her parents were objecting to her fourth marriage, and that she was being held captive in a relative's house in Chennai. She said Anandakrishnan's daughter, Jothi, had helped her escape and that they should now help Jothi.
"Though Anandakrishnan did not have a daughter named Jothi, Sangeetha created a imaginary daughter. She told Dinesh that if the couple were murdered, all their property would come to Jothi, which would benefit them too. She also instructed Dinesh to steal the jewellery. Dinesh engaged his friends and committed the murder," Radhakrishnan [Police Chief] said (report by A. Selvaraj in the Times of India, dated January 5, 2009).
Another report (Aug 2008) in the same daily newspaper had this heading: Wife hires killers for her husband.
Vasu (38), owner of a hair salon in JP Nagar was also a real estate businessman. He lived with his wife Prabhavathi (30) and they had three kids. He had constructed a new house in Basaveshwaranagar. Although they were married for several years, their relationship was not going well as they used to have constant altercations.
Prabhavathi allegedly had an illicit relationship with Beeresh from Kanakapura, with whom she had planned to murder Vasu. She thought her husband was a hurdle in their relationship.
On August 17, on the pretext of purchasing a plot [of land], Prabhavathi and her lover took Vasu to the outskirts [of the city], with four others to survey the site.
On the way, they had strangulated him to death using a wire. Then they dumped the body in the Shimsha river and returned to the city. Akash, a friend of Vasu and co-worker in the salon, had filed a complaint with JP Nagar police about Vasu's disappearance.
The police then tracked the accused through the mobile phone record of Vasu. Prabhavathi, Beeresh and three others were arrested immediately. But Krishna, leader of the group, is absconding and the police are searching for him.
1890s in India
1890s were exciting times for India - the Indian National Congress came into being in 1885 and the Parliament of Religions of the World was held in Chicago in the year 1893, which showcased the spiritual renaissance of India, especially the Hindu religious thought, to the entire world. While Vivekananda's address to this Parliament is often remembered as its great contribution to India, in the very same Parliament, an Indian woman also spoke, signaling the emergence and the future of Indian women:
'Tell the women of America that we are fast being educated. We shall one day be able to stand by them and converse with them and be able to delight in all they delight in. And so I have a message from each one of my countrywomen…'
As Thirumalai (2005) points out, "In Miss Serabji's speech, we see anguish for the welfare and equality of Indian women, a project that would not find a focused place or attention in other speeches. This was an earthly speech in a conference of spiritual leaders, and it drew the attention of the audience subtly to the condition of Indian women, and their hopes and aspirations." (Thirumalai 2005, http://www.languageinindia.com/march2005/parliamentofreligions1.html).
Portrayal of Women as Villains
Portraying women as vile, villainous and bad is not something new to Indian mythology and epics. However, large scale incorporation of such themes in Indian stories, I feel, is from 19th century. One may say that Hedda Gabbler is one such story that has impacted literary creativity throughout the world. Women seeking freedom from tradition and pursuing their own identity and liberty, would be portrayed not simply going beyond what the society expected of them, but even as vile and immoral in their pursuits. Miss Serabji's speech praying for the equality of Indian women, in this context, should have worked as an antidote, but creativity often refuses any bounds.
Henrik Ibsen
Henrik Ibsen was scandalous in his day. "Ibsen was the best-hated artist of the nineteenth century," commented Huneker. Ibsen was also one of the most revered. Ibsen once wrote, "I prefer to ask; 'tis not my task to answer." Thus Ibsen was more for description and portrayal of what he considered to be real than for any moral teaching. It appears that Good and Evil distinction that dominates much of literary creativity was not his forte. Hr explores the complexities of human behavior and the ambiguities of reality.
This article aims at
This article aims at the gradual exposition of the predatory nature of the characters to promote their self image. The article aims to show how Ibsen achieved this through his ability to imbue the natural and mundane objects and ordinary speech with a persistent and convincing symbolic meaning.
Hedda Gabler - one of the problem plays
In his later works, Ibsen created a new genre of "problem" plays in which he used his characters to trace either the general moral decay of society or to pinpoint a specific problem that would ultimately lead to the downfall of a community. Hedda Gabler is one of these, though it has always been a subject of debate as to what exactly Ibsen is critiquing through his central character.
Ibsen himself offered a clue when he wrote to a friend,
"The title of the play is Hedda Gabler. My intention in giving it this name was to indicate that Hedda as a personality is to be regarded rather as her father's daughter than as her husband's wife. It was not really my intention to deal in this play with so-called problems. What I principally wanted to do was to depict human beings, human emotions, and human destinies, upon a groundwork of certain of the social conditions and principles of the present day."
---
This is only the beginning part of the article. PLEASE CLICK HERE TO READ THE ARTICLE IN PRINTER-FRIENDLY VERSION.
---
Effect of Temporal Variations on Phoneme Identification Skills in Children and Adults - Comparative Study | Indianness in R. K. Narayan's Novel - The Man-Eater of Malgudi | English Vocabulary Learning Strategies Manipulated by the Students of Azad University, District 5: A Gender-oriented Study | The Impact and Relevance of Hedda Gabler in Modern Days | Search for Identity and Self in Indian Poetry in English by Women Writers | Teaching English in Minority Institutions | The Sociolinguistics and Cultural Considerations of English-Arabic Translation of Political News | Attitudinal Factor in Second Language Acquisition - An Illustrative Example from a Class in University | A Study on Emotional Skills and Adjustment towards First and Second Language Learning and Academic Achievement | Nonverbal Communication in Tamil Novels - A Book in Tamil | The Effect of Proficiency on Multilingualism, Error Finding, Social Class and Attitude in Multilingual Pre-University Mysore Students | A Review of Muzafar Desmond Tate's The Malaysian Indians: History, Problems and Future | HOME PAGE of May 2009 Issue | HOME PAGE | CONTACT EDITOR
---
Shanthi Nehemiah, M.A., M.Phil.
Department of English
Karunya University
Coimbatore 641 114
Tsmilnadu, India
shanthi_nehemiah@yahoo.co.uk
Send your articles
as an attachment
to your e-mail to
msthirumalai2@gmail.com.
Please ensure that your name, academic degrees, institutional affiliation and institutional address, and your e-mail address are all given in the first page of your article. Also include a declaration that your article or work submitted for publication in LANGUAGE IN INDIA is an original work by you and that you have duly acknolwedged the work or works of others you either cited or used in writing your articles, etc. Remember that by maintaining academic integrity we not only do the right thing but also help the growth, development and recognition of Indian scholarship.