---
AN APPEAL FOR SUPPORT
We seek your support to meet the expenses relating to the formatting of articles and books, maintaining and running the journal through hosting, correrspondences, etc.Please write to the Editor in his e-mail address mthirumalai@comcast.net to find out how you can support this journal.
Also please use the AMAZON link to buy your books. Even the smallest contribution will go a long way in supporting this journal. Thank you. Thirumalai, Editor.
---

---
---
BOOKS FOR YOU TO READ AND DOWNLOAD FREE!
---
REFERENCE MATERIAL
BACK ISSUES
---
E-mail your articles and book-length reports in Microsoft Word to mthirumalai@comcast.net.
Contributors from South Asia may send their articles to
B. Mallikarjun,
Central Institute of Indian Languages,
Manasagangotri,
Mysore 570006, India or e-mail to mallikarjun@ciil.stpmy.soft.net. PLEASE READ THE GUIDELINES GIVEN IN HOME PAGE IMMEDIATELY AFTER THE LIST OF CONTENTS.
Your articles and booklength reports should be written following the MLA, LSA, or IJDL Stylesheet.
The Editorial Board has the right to accept, reject, or suggest modifications to the articles submitted for publication, and to make suitable stylistic adjustments. High quality, academic integrity, ethics and morals are expected from the authors and discussants.


Copyright © 2007
M. S. Thirumalai
---
Meaning and Technique in Walt Whitman's Poetry

Julia Devardhi, M.A., M.Phil., Ph.D. Candidate
---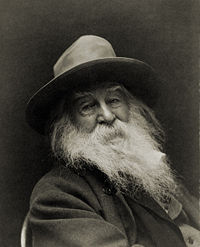 Taken from Wikipedia, www.wikipedia.com

Abstract

This article attempts to elucidate the meaning and technique of Whitman's poetry. For this purpose, the paper uses evidence from a few selected poems taken from Whitman's book Leaves of Grass (1855 edition) to show that ultimately, the poems should be read as part of the collection to be appreciated. Leaves of Grass has a marked architectural quality and has for its chief aim the stimulation of a personality.

Further, Whitman's poems reveal that the Universe is alive, not dead. They are organic-living and growing and speaking to us directly through the creative mind and its senses. His poetics do not appear to be didactic but they are illustrative and reveal Whitman's innovations.

The meaning of his poems occurs on two levels---the plain sense level and on the level of metaphor. The subtlety of his poems lie not in ideas or emotions, but in the aesthetic form, that is, artistic technique. This is well illustrated in Whitman's use of figurative language, symbolism, imagery, metaphor, repetitions, parallelism and catalogs. Thus, this paper endeavors to explicate the meaning of the poems that is latent in different surfaces of the lines and also to lay emphasis on Whitman's use of exuberant phrases and images that govern the concept and form of his poetry.

Introduction

Walt Whitman (1819-1892) is one of the Western poets/creative writers whose writings had been greatly influenced by Vedantic and Upanishadic thinking. Walt Whitman has also been described as an American Sadhu! What we really see is an interesting cyclic impact: Eastern thought influenced modern Western writers whose understanding and interpretation of it, in their turn, impacted Eastern philosophical thought.

Ever since its first publication in 1855, Leaves of Grass has been a puzzling collection of poems. It inspires, it enthralls, and it tantalizes the reader. Leaves of Grass has the kind of unity the world or man has. Whitman believes that truth and beauty are attributes of man's experiences and of the universe. He has so completely identified himself with 'Leaves' ("This is no book, /who touches this touches a man") that most critics have tried to find reflections of Whitman's life in all the imagery and symbolism of the poems.

Two Principles of Organization in Leaves of Grass

There are two principles of organization in Leaves of Grass closely related and simultaneously operative. The first is analogous to the organic process of thought by which bits of experience are progressively united in larger and more complex integrations. The second is the organic growth seen as a pattern of death and rebirth. Both mean the same and work well. The second suggests a stronger recognition of the principle that in order to register a change the organic structure must be totally reconstructed; it does not grow by addition but by emergent states of complexity, each one radically different from the preceding one. The assimilation of the fact of death, the transcendence of the feelings of sorrow at the loss it involves, is one of the greatest changes the growing organism of the human personality can undergo.

Nature and Spirit

Whitman's poetics is constructed around the organic principles of nature and her symbols of spirit. In essence, the organic principle states that form takes its origin from within and that "poetic expression will find its own natural rhythms in the act of expression" (Wilson, p.37).The organic form,
. . . is innate, it sleeps as it develops itself from within and the fullness of its development is one and the same with the perfection of its outward form. Such as life is, such is the form. Nature the primal genial artist inexhaustible in diverse powers is equally inexhaustible in forms . . . (Coleridge, Pp. 77-9)
Considering all these ideas, the theory of the organic growth of Leaves of Grass is a growth that reflects psychological changes in the poet resulting from an ebbing of the libido.
In its simplest terms Leaves of Grass may be said to be the creation of an individual. This creation or delineation first portrays an expanding awareness of the self and its relation to all else, next shows the impingement of a specific time and a particular place or self, and finally engages the self with the fundamental and all encompassing law of spirituality.
Meaning in Whitman's Poetry
The main concepts on which Whitman builds his poems are those connecting the polar opposites of the individual and society, man and nature, body and soul, mater and spirit, and life and death. His aim is to suggest a complex of relations embracing all the elements and implying many more. The object then is to integrate the universe in the reader's mind by persuading him to see, that is, to originate for himself, relationships between himself as an individual, and the mass of individuals in society, between himself and nature or the universe, between his body and his soul, between his own life and death.
The meanings of the poems are latent in different surfaces of the lines. Inside the shifting shimmering surfaces of Whitman's poems is a system of articulation that gives them strong, though not solid shapes. It proceeds by the method of reconciling opposites, which Coleridge (1969), recommended. The meaning is unraveled with a vast number of individual observations or units of disconnected experiences and ties them together, dialectically in a progressively tighter and more comprehensive synthesis. This is a unique spiritual perception.
Whitman's poetics does not appear to be didactic but is illustrative. He does not dictate terms to the child on how to live well, instead, he reveals the possibilities of life with an indiscriminate, often totality of images that express the complete realm of phenomenal manifestation of the universe. His task is not to make the child 'do' but to make him 'see'. His verse is a poetry of perceptions, seeing, hearing, feeling, all merged into one, all of which is to say that there is a consistent attitude and a
. . . motion that there is nothing static, nothing abiding, but only the flow of a relentless process, with everything originating, growing, decaying, vanishing . . . a wholly dynamic view of life of the individual and of the universe. (Zimmer, Pp. 130-1)
This is only the beginning part of the article. PLEASE CLICK HERE TO READ THE ARTICLE IN PRINTER-FRIENDLY VERSION.
---
Kinship and Gender in Meiteiron | The Use of Layout in Malay Language Newspapers' Front Pages | Exploring Ethnolinguistic Vitality - A Case Study of Lepchas in Dzongu Valley | Tamil Advertisements in Television | The Use of Second Person Pronoun in Tamil and Telugu | Survival of the Minority Kristang Language in Malaysia | Meaning and Technique in Walt Whitman's Poetry | Syntactic Errors in English Committed by Indian Undergraduate Students | Form and Function of Disorders in Verbal Narratives - A Doctoral Dissertation | Problems of Assamese Speakers Learning Manipuri | Stylistic Changes in English-Arabic Translation - With Reference to BBC News Texts | HOME PAGE of June 2008 Issue | HOME PAGE | CONTACT EDITOR
---
Julia Devardhi, MA. M.Phil., Ph.D. Candidate
Department of English
Faculty of Education
Haramaya University
PO.Box 260
Dire Dawa
Ethiopia - 251
juliadevardhi@yahoo.com
Send your articles
as an attachment
to your e-mail to
mthirumalai@comcast.net.
Please ensure that your name, academic degrees, institutional affiliation and institutional address, and your e-mail address are all given in the first page of your article. Also include a declaration that your article or work submitted for publication in LANGUAGE IN INDIA is an original work by you and that you have duly acknolwedged the work or works of others you either cited or used in writing your articles, etc. Remember that by maintaining academic integrity we not only do the right thing but also help the growth, development and recognition of Indian scholarship.